Business Analyst Prima XL (M/W)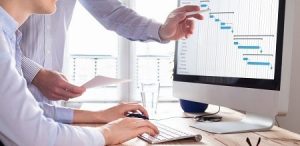 Effisoft USA is currently looking for a skilled Business Analyst to join its growing team.
The Business Analyst performs autonomously complex assignments/small projects and proactively suggests the resources and means needed to implement the department's services and products, under the supervision of a Project Manager. Being a strategic need for insurance companies, the reinsurance department is usually under the direct supervision of a controller or an accounting executive. You will mainly handle projects with a project manager, business users and IT leads within insurance companies.
Main missions
Produce detailed business requirements/functional specifications for the development of new modules or for the development of interfaces between WebXL and the client IT environment,
Manage the deliverables quality according to the specifications (conception of the test plan and testing),
Conceive and dispense training to the client,
Manage concurrent projects/assignments using defined methodologies with respect to the budget and the planning,
Develop and maintain project plans, timelines, milestones, specifications, flowcharts, and presentations,
Potentially assist upper management with RFI & RFP, quotes and contracts as needed.
You will be responsible for several customer accounts and will work closely with the development teams.
You will have the opportunity to actively participate in the construction and implementation of complex IT products as well as the development of our structure.
The position requires frequent travel on short notice.
Skills
Ability to manage relationships and coordinate work between IS teams, business resources and clients,
Proactively identify project risks and resolve issues that may impede a project or its deliverables,
Ability to communicate effectively with project team (s) including sponsors, stakeholders and team members to provide project goals, risk analysis, status, requirements and solutions,
Ability to effectively facilitate meetings with project sponsors, various business groups and senior leadership,
High sensitivity to customer satisfaction.
Qualifications
Bachelor's degree in Computer Science, Information Technology, Business or equivalent,
Industry Knowledge and PMP certification is a definite plus,
Reinsurance & System Specific Training will be provided ; the successful candidate will be expected to quickly master "WebXL Reinsurance System" and complex reinsurance concepts.
Job based in Miami (USA)
You can apply at the following address: recrutement@prima-solutions.com