Project Manager / Product Owner (M/W)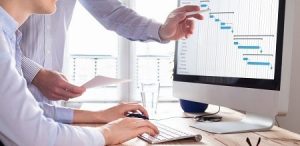 Main mission
You are responsible for driving and leading the implementation of our solutions to quality and budget in a customer environment using our Scrum-based methodology.
You manage the overall project delivery (from a functional and technical stand point) by delegating the management of technical delivery to the Scrum master.
You own all functional activities and aspects of project implementation, from managing a team of Business analysts, driving functional workshops and producing functional specifications using our Scrum-based Prima methodology, managing internal acceptance testing phases and coordinating with customers' acceptance activities.
You manage the project budget and therefore are responsible for tracking budget consumption related to delivered effort, against progress and earned value.
You provide regular project updates and reports to the Operations management team and if required you use them as escalation points to assist in resolving project issues.
Last but not least, you are eventually responsible for customer satisfaction of delivery.
In terms of line management, you will report in to the Operations group, namely into the Client Accounts Director.
On a given project, you will oversee a team of Business analysts (BAs) and Quality Analysts (QAs), assembled as a dedicated team for that particular project.
On regular projects where no Project Director is required you will also oversee the Scrum master and the development team. On large projects, you may report into a Project Director.
You are the main contact point with the customer for project activities and manage the day to day relationship.
Skills
+++
Analyze business problems and expectations of the customer
Lead and manage functional requirements gathering and design workshops
Ability to manage a customer relationship consisting of multiple stakeholders, and to influence decisions with regards to solution implementation
Ability to define, manage and prioritize a (solution) Product Backlog
Ensure the overall quality of functional deliverables and their alignment with both the methodology and the core Prima Insure product
Manage the relationship with the development team and its Scrum master
Communicate effectively to internal and external stakeholders on progress regarding project delivery, deliverables milestones and on budget tracking, including alerts in case of issues related to the project delivery and planning slippage
Proven expertise in the insurance business domain and especially P&C insurance (Front to Back, namely, Product definition and Subscription process, policy management, Claims, financial management, Technical Accounting)
++
Ability to analyse, decompose and map requirements to the existing Prima core package functionalities, and eventually to deliver detailed functional specifications (User Stories)
Design and execute test campaigns
Build and execute multi-phase delivery plans
Interact regularly with the Core Product team for the improvement of our core Prima Insure software
Ability to lead a distributed team (on and off shore)
Ability to proactively detect and escalate issues to Prima Operations management
+
Coordinate customer acceptance test phases, and validation of expected functionalities before Go live.
Qualifications
+++
Team-focussed and minded, eager to help and assist others
Rigorous, analytical and detail oriented while at the same time capable of handling the bigger picture
Self-starter and self-organized
Customer empathy, good listening skills
++
Taking initiatives and Solutions oriented
Eager to manage to an outcome while coaching a team
Good Writing skills
Resistant to stress
Open to international teams and multi cultural environments
Ability to reformulate and simplify complex topics into plain terms
+
Diplomatic and influencer +
Requirements
+++
3 to 6 years of proven experience in the insurance business domain and especially P&C insurance (Front to Back, namely Product definition and Subscription process, policy management, Claims, financial management) acquired at an Insurance Company, a Broker company, Consulting firm or Software Vendor specialized in Insurance
At least 5 years of proven insurance project experience, either as a functional expert or as an analyst
At least 3 years of Project management experience as a functional PM or as a Product Owner ( Agile methodology )
++
At least a BSc preferably in Computing or IT management, or BA in Management (Master highly desirable)
Previous experience dealing with complex software integration, using complete methodologies and approaches based on reuse and patterns highly desirable
+
Product Owner certification or significant Product Owner experience
Good working Knowledge of Agile tools such as JIRA or Confluence
Job based in: Miami (USA)
You can apply at the following address: recrutement@prima-solutions.com