Software Development Team Scrum Master (H/F)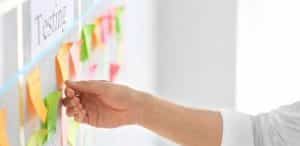 Levallois-Perret (France)
Main missions
As the Scrum master for the development team responsible for the integration of our solutions within our customers' environment, you are responsible for overseeing and coordinating the activities of the developers:
You make sure the principles of our SCRUM-based Prima methodology are followed throughout the implementation project. As such, you will enable your team to become autonomous in the planning and execution of development sprints
You will guide and assist developers on producing solutions and designs based on customer requirements and specifications, while ensuring the effective reuse of Prima Insure core features and functionalities, therefore enforcing an "Adopt rather than adapt" mentality
You are responsible for ensuring implementation best practices and established patterns are followed by the team so solutions produced remain aligned with our integration methodology and easy to maintain
You report on progress of development activities for your team to the Project Manager / Product Owner, using Agile-based KPIs and tools, with focus on tracking earned value versus consumed budget, and you proactively alert when development activities are at risk of going over the budgeted effort (budgeted effort is established at a high level during project scoping and then more precisely by the team during each sprint planning)
You collaborate with the customers' technical leads and architects to agree and decide integration strategies for our Prima Insure solution.
Depending on the size of the project team you will oversee, you will be expected to take part in project software development activities just like your team members, up to 50% of your time. It will allow you to build and maintain a deep knowledge of the core product features and implementation patterns, therefore be an effective and respected coach for your team.
In terms of line management, you will report into the Operations group, namely into the Technical Consulting Director. With regards to the projects you will be part of, you will report (matrix) to the Project Manager / Manager or the product owner (depending on the project size).
On a daily basis, you will be the designated contact point for the customer and product owner on one hand, the developers and the architects on the other hand.
Requirements
+++
Track record with the technology stack for developing and building Prima-based applications: Java (v>8) , Angular, Jenkins, Maven
Facilitate the Scrum events and ceremonies as necessary
Able to coach and lead the entire dev team with regards to knowledge of the Prima product and implementation approach
Able to use efficient techniques for managing the Product Backlog in collaboration with the Product Owner
Able to apprehend, design and execute complex implementation plans in an empirical and agile context
Strong expertise in Problem solving and Removing obstacles to the progress of the development team
++
Able to assist the Scrum team in understanding the requirements and scope items of the Product Backlog, and to facilitate communication with the Product Owner
Able to coach and support the Product Owner in organizing the Product Backlog to maximize business value (quick wins, MVP-approach, …)
Collaborate with other Scrum Masters to provide project feedback and return on experience with a view to increase the efficiency and completeness of the Prima methodology
Able to Coach the development team into self-sufficiency while maintaining a level of control and leadership over the solution produced
Skills
+++
Team-focused and minded, eager to help and assist others
Rigorous and detail oriented
Self-starter and self-organized
Proactive and Solutions oriented
Eager to share and transfer knowledge
Customer empathy, good listening skills
++
Open to international teams and multi cultural environment
Ability to reformulate and simplify complex topics into plain terms
Qualifications
+++
At least a BSc preferably in Computing, MSc highly desirable
At least 6 years of proven development experience
At least 2 years of experience as a scrum master or a development team lead, or technical lead +++
++
Previous experience with a software vendor or a systems integrator, dealing with complex software integration, using complete methodologies and approaches based on reuse and patterns highly desirable
+
Previous experience with insurance software will be a plus
Job based in Levallois (France).
You can apply at the following address: recrutement@prima-solutions.com